Houston speed dating pictures genealogy roadshow episodes
opinion
AVIS SILVIA
Wednesday, March 13, 2019 10:48:22 AM
I brought in a collection of Civil War memorabilia that belonged to my great-great-grandfather. I know he fought at the Battle of Shiloh and the Battle of Vicksburg.
So to me it seems like something you would keep your materials in, maybe your field notes, something like that. He was captured by the Union, and then released and paroled to go home. So he walked home from Mississippi back to Texas, and then I think he re-enlisted back into the army. And I think he fought until the end, but he stayed in Texas.
Well, during the Civil War, there were two buildings on Travis Street that were leased to the ordnance department.
This is actually for holding cartridges. This one is what is referred to by collectors as a Houston depot. It is a copy of the Union cartridge boxes of the day. There are several things that we look for that let us know it's Confederate rather than Union, if you don't have this big bold "CS" on the outside cover.
If we open up the flap, we notice on the bottom of the box, we have a finial.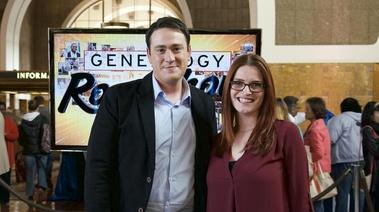 And the finial's made of lead. Almost all of the Union finials are made of brass. And most of the time that little leather tab that goes over it is broken off, so it's wonderful that we do have that. Now for the elephant in the room.
We have the huge "CS" lettering. It's the most vividly clear and beautiful stamping that they ever used. This one's a little hazy, but that just happens because every strike isn't perfect. Which is why I asked you when he went home. So that lets us know that this is the one that he used when he got released and sent back home.
It's a fantastic box. I opened it up to show one of our producers, I saw a piece of paper.